The kitchen of 2013: Experts dish
By Jura Koncius,March 27, 2013
The reign of the trophy kitchen is officially over. The dream kitchens of today aren't about the sexiest six-burner range or the most exotic countertop material. As cooking has returned to center stage and remodeling budgets have sobered, the kitchen island is nurturing family togetherness and reviving casual entertaining.
In kitchens with a small footprint, glass tiles, quartz counters and dish drawers are adding sparkle and practicality. The kitchen of 2013 has soul.
"That industrial, commercial style was looking a little cold," says Samantha Emmerling, kitchen editor at Hearst Design Group. "People are spending all their time in there, and they want it warm and inviting, as well as low-maintenance."
A kitchen renovation is still costly. The average 2013 kitchen remodeling job is $47,308, down $3,742 from last year, according to the National Kitchen & Bath Association. Designers say the look today is less tradition, more transition. Clients are choosing more modern touches such as white or gray cabinets, gray walls and neutral quartz counters, individualized with different textures and touches of color.
"Ten years ago, everyone showed up with the same photos of what they wanted," says Paul Lobkovich, an architect and kitchen designer at Lobkovich Kitchen Designs in Tysons Corner. "Now people are much more creative. They've seen plenty of HGTV shows and scoured Houzz and other Web sites. They have a Pinterest board full of stuff they like. This gives people a wide range of unique looks. And it makes it more exciting for us designers."
Yes, the kitchen is still the most obsessed-about room in the house, but it's clear homeowners want more than just trends. They are seeking a calming space that makes them happy. "Lately it's been less the kind of stars-in-the-eyes approach and a bit more practical with a simplified aesthetic," says designer Eric Lieberknecht, who owns a kitchen design firm in Alexandria. "People have a wide portfolio of things they want, and not just what their neighbor has."
Nadia Subaran, senior designer at Bethesda's Aidan Design, calls the design direction "modern cottage." "It's not stark modern design," Subaran says. "It has natural materials, textures and layering, with lots of whites and grays. There is nothing fussy or frou-frou about it." Although stainless still reigns, there is growing interest in white ranges and refrigerators in a new glossy finish, as well as soapstone countertops and floating shelves.
"People are really looking to make the most of their space. They want practical and functional," says Liza Hausman, a vice president at Houzz, a home design Web site and mobile app.
Alexandria designer Shazalynn Cavin-Winfrey calls her own family kitchen, done in shades of gray, "an interactive galley style." Her two kids hang out on the slipcovered benches at the mother-of-pearl counter as she cooks breakfast or packs lunches. Two wood table lamps make it cozy.
The 2013 member survey by the National Kitchen & Bath Association identified a menu of some of today's top style choices in kitchens. Here is insider information on seven of them.
1.WHITE CABINETS
The choice of cabinets is arguably the most important decision when redoing a kitchen. The selection sets the look. In the National Kitchen & Bath Association survey, 67 percent of respondents said that white was their first choice for cabinetry, a jump of 20 percentage points in the past two years. "Over the years, white is always a popular color and there are times it is the No. 1 color," says John Morgan, president of the association and owner of kitchen products supplier Morgan Pinnacle in Glyndon, Md. "I would say that white and dark cherry are both timeless."
2.QUARTZ COUNTERS
Consumers are demanding products that are easy to care for, including quartz counter surfaces such as Caesarstone and Silestone. These durable products are made of about 90 percent natural quartz mixed with pigments, polymers and resins. They require no special maintenance and cost about $40 to $100 a square foot installed. Silestone produces 70 colors in polished or matte finish and contains an antimicrobial agent. According to Lorenzo Marquez, vice president of marketing for Cosentino North America, Silestone's parent company, the most popular colors right now are white and gray.
"It's a pretty honest material, and it functions so nicely," says Washington designer Paul Sherrill of Solis Betancourt & Sherrill. "If you don't have a tolerance for natural stone and what it's going to do over time, go for it."
3.MANY SHADES OF GRAY
Gray seems to be the color of the moment. Although white and off-white are still the top colors, grays are showing up on cabinets, counters and walls. Gray is another neutral that can be paired with many accent colors and looks chic and modern, whether a driftwood gray wood finish or glossy gray coating.
Alexandria color consultant Jean Molesworth Kee of the Painted Room says, "I'm seeing a lot of quick redos where they are painting old wood cabinets a light gray and totally getting rid of anything Tuscan red or yellow." But she cautions against gray overload. "If there is too much gray, it can look really chilly and depressing. You'll think you are stirring your pot in an operating room. You need a lot of white to balance it out." Her favorite gray paints for kitchen walls: Sherwin-Williams Collonade Gray, Benjamin Moore Ozark Shadows and Benjamin Moore Storm.
4. LED LIGHTING
More and more remodeled kitchens now have LED lighting, especially below cabinets. LED bulbs are more efficient and generate little heat. "We are doing a lot of LED under-cabinet lighting," says Larry Rosen, owner of Jack Rosen Custom Kitchens in Rockville. "Halogen and Xenon lighting actually burn very hot. If you accidentally touch a bulb, you can burn yourself. LED is more expensive, but they save on electricity, are cool and last a really long time."
5. ELECTRONIC FAUCETS
"When people renovate their kitchen, it's not just functionality and beauty," says Houzz's Liza Hausman. "They are thinking about how to include the latest technology." One of these new toys is the tricked-out faucet. Both touch-activated faucets and hands-free faucets are beginning to appear in kitchen remodeling contracts. According to Tom Tylicki, Moen's senior product managerfor kitchen, the Moen MotionSense hands-free faucet responds to consumers' kitchen work styles and helps prevent the spread of germs. It's also a good choice for gardeners whose hands are frequently covered in dirt. Moen has three MotionSense styles priced at $399 to $690.
6. SATIN NICKEL FINISHES
"Satin nickel is the new oiled bronze," Sherrill says. For him, the matte nickel finish reflects the increasingly modernist kitchen look.
The survey found that polished nickel and polished chrome were less requested than last year, and the duller finish was growing in popularity. Some designers feel that this finish best complements stainless steel appliances; others say the gray metal color sets off gray cabinets, counters and walls.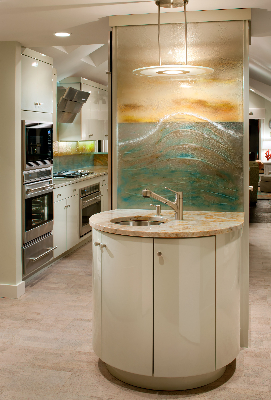 7. GLASS BACKSPLASHES
Glass tiles are the jewelry of a kitchen for Tynesia Hand-Smith, a Bloomingdale interior designer. "They add great shimmer," she says.

This article originally appeared in Washington Post 3/27/2013 all photos are property of 
NorthShore Kitchens Plus