Cabinet Styles
Cucini by NorthShore Kitchens
This cabinet line is created exclusively for
Northshore Kitchens Plus' discriminating clients by superior craftsmen in the heart of Pennsylvania's Amish countryside. Our cabinetmakers build stained, painted, and glazed furniture that reflects the charm of yesteryear's country farm kitchens…
the quiet sanctuary of sophisticated paneled libraries…the pizzaz of contemporary recreation/media rooms… the ultimate in bedroom/master bath retreats. The cabinetry style possibilities are limited only by the imagination.
Draper-DBS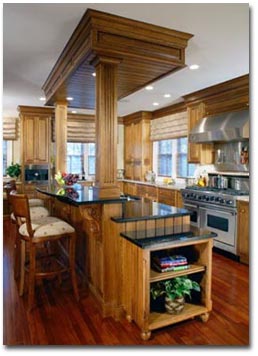 Experience the very finest hand-carved cabinetry and furniture. Using centuries-old joinery techniques and painstakingly selected fine woods, Draper-DBS's highly skilled master craftsmen individually assemble and hand finish each cabinet.
Cabinets by Draper-DBS are unique works of art, functional for modern living, yet superb in visual appeal.  These are truly tomorrow's heirlooms.
Acorn
The cabinetmakers of Acorn construct exquisite cabinetry based on the foundations of customer trust, superb quality, craftsmanship and creativity. Custom designed to accommodate our clients' aesthetic and home investment goals, these cabinets are available in a myriad of finishes and styles…from the finest stained, painted, and glazed woods to sleek Euro styled melamine and stainless…from traditional to contemporary to truly eclectic…each cabinet melds beauty with superior functionality.
Organization and Storage are two of the most common issues in any home. 
Let a professional design a system that will get your home in order. 
Northshore Kitchens Plus can help you create the right solution for your home…that's what the Plus part is all about.
Contact us today at (781) 631-1060 to discuss your cabinet and closet renovation needs and to learn how we can help you make your vision a reality.